Meet CBT Therapist Danielle Bissett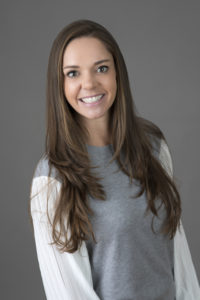 Early on I recognized that everyone has their own struggles, and sometimes, all we need is a little support from someone who understands and care.
My middle school guidance counselor was one of my first inspirations. I admired how he always found solutions to difficult problems and was always there for the students in need. I knew, even back then, that I wanted to help people as he did.
Because adolescence can be one of the hardest times in life, this guidance counselor had a significant impact on my life. During those formative years, we find out who we are and where we fit. Today I work to help kids and teens through that exploration. I particularly enjoy working with young people because they are so resilient. Their ability to navigate stressors with so little experience is downright brave. As a therapist, I help kids and teens recognize their inner strength, build awareness and develop the skills that can ultimately lead to a calm, confident future.
I truly enjoy working with adults as well. I'm deeply moved by my clients' life stories and their ability to overcome challenges. My clients always thank me for my services, but in truth, they're the ones doing all the work. I'm just here to make things a little clearer, teach them coping mechanisms and provide the support along the way.
My Background
Outside of my career, family is very important to me. My strong, caring mother taught me everything I know about being a loving mom. Now that I have a son of my own, I'm so grateful for her. Being a mother is the hardest, most rewarding job I've ever had.
My father instilled in me the value of hard work. He started from nothing and worked his way up, making things happen and overcoming hardships along the way. I like to say he made the impossible, possible. He also encouraged me to remove the word "can't" from my vocabulary.
I was devastated when he passed away unexpectedly. I was in graduate school at the time, struggling to manage school, work and grief. From everything he taught me, I knew I had to keep moving forward and finish my degree.
No matter what stage of life, I always had a passion for helping others. In 2007 I studied abroad in Cambodia and Vietnam. During that summer, I started a fundraiser and raised over $20,000 for children who lived and attended school in a dump. The following year, I returned to Cambodia to present the check that provided all the children with a new outfit, a pair of boots and toys. This is my most humbling experience to date. Furthermore, I completed my graduate internship at a nonprofit community mental health facility. There I had the privilege of serving as the head psychology intern for the afterschool program for youth with behavioral difficulties. I took it upon myself again to start a fundraiser to enable underserved clients to practice their social skills in a variety of settings while being exposed to age-appropriate activities that they otherwise would not have had the privilege of doing.
Outside of work, I enjoy moments with my son, who reminds me to enjoy the little things in life. As adults, we usually take things, such as rolling down grass hills, making forts and building sand castles, for granted. And, I absolutely love teaching my son to play sports. I grew up playing many sports, including motocross where I won the Long Island women's championship. Today you can still find me playing ice hockey, and I look forward to the day my son and I can play together.
From all my experience—both on a personal and professional level—I know that life is not easy. The truth is that it's sometimes harder than we can imagine. But, life is also full of opportunities to learn, grow and make positive changes. Every moment can teach us something about who we are and what we value.
Sometimes that message can be hard to grasp, especially in periods of tragedy or conflict. These are times when we truly need help. I'm honored to provide my clients with the skills and support needed to relieve the pain, move forward and thrive.
How I Work
I truly appreciate my clients for who they are, regardless of their struggles. You may have made choices you're not proud to admit. You may even feel like a failure. But, failure is not fatal. It's not even a bad thing. Thomas Edison tried over 900 times to make the light bulb, and when he was questioned about his failures, he responded, "I didn't fail. I just found 899 ways not to make a light bulb."
In other words, failure is an opportunity to learn and grow. I can help you use hardships for good, harness your power and learn how to love yourself—no matter what.
In my practice, I operate on values of loyalty, trust, honesty and diligence. I'm a goal seeker who finds positivity in every situation. I take pride in my relationships with my clients of all ages and the growth that happens as a result. If you're struggling, I'm here to provide the support you deserve.
Schedule An Appointment
If you're interested in learning more about me or my approach to child therapy, teen therapy, adult therapy or cognitive behavioral therapy, please contact me or call 631-533-0254 or email [email protected] for a free, 20-minute consultation. My practice is located in Commack, NY.
Danielle Bissett is a licensed clinical psychologist. She earned her masters and Doctoral degree in clinical psychology from Nova Southern University and a bachelor's in psychology from Lynn University. She is a proud member of the American Psychological Association (APA). She is an active community member, who has always had a passion for volunteering and raising money for those in need. In her private practice, she specializes in cognitive behavioral therapy for children, teens and adults to help relieve a variety of issues, including anxiety and depression, behavioral problems and relational strains.