Are You Struggling With A Defiant Or Avoidant Child?
Instead of hugs, joy and laughter, is your relationship with your child defined by overwhelm, disconnection and disruption? Perhaps you're tired of repeating yourself, and you wonder why your child never seems to listen. Or, maybe you're discouraged because you've exhausted your parenting strategies. No matter how hard you try nothing seems to work.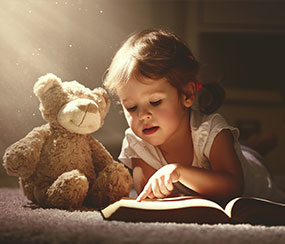 You might worry for your child's wellbeing, especially if they express difficulty making friends or feeling good about themselves. Your child may seem persistently down or unmotivated to complete schoolwork or join activities with siblings or peers. Maybe your child seems to have limited friends and possibly afraid of social interaction.
Or, maybe the opposite is true. Your child may be overactive. They may have trouble sitting still or sustaining attention. Perhaps they're well behaved at school, but the second they come home they have a meltdown, and you can't understand why this continues to happen. Regardless of the specifics, you may desperately want to create harmony in your household.
Parenting a child with behavioral problems can be a difficult, isolating and a confusing experience. Your day may begin with fights about getting out of bed and to school. Throughout the day, you're juggling work, errands and other responsibilities. When you get home, you don't get to relax because your child isn't being respectful, which leaves you feeling frustrated and maybe even helpless. As these patterns continue, you may realize that something needs to change, but you don't know where to start.
You Are Not Alone
If your child seems to be misbehaving, they are certainly not alone. You are not alone either. According to the Center for Disease Control and Prevention, 1 in 7 children aged 2–8 has a mental, behavioral or developmental disorder. Of children aged 3–17, approximately 7 percent deal with ADHD, 3.5 percent with behavioral problems, 3 percent with anxiety and 2 percent with depression.
Depression and anxiety symptoms in children can look different than in adults. Although stress is a normal part of childhood, children who suffer from an anxiety disorder experience fear, nervousness and shyness, and they often may try to avoid places and activities. Depressed kids often show signs of low self-esteem and seem unmotivated to participate in activities at school or at home. Children with ADHD may present with difficulties with memory, attention, trouble staying still or boredom.
Parenting is not easy even when children do behave. As the parent, your needs are always last on the list. If you have several kids, you may struggle with conflicting temperaments and behaviors. With limited time and energy, you may wonder if you're giving all of your children the attention they need. All of this stress and confusion can take a toll on your wellbeing, along with your career and relationships.
Parents never receive a handy guidebook that tells us exactly what to do. Even within the same family, what works for one child may not work for another. And, oftentimes, standard parenting strategies are not effective for dealing with child anxiety, depression or ADHD. It can be even more difficult to negotiate these parenting challenges if you and your co-parent are divorced or in conflict about parenting styles.
The truth is every child misbehaves for a reason. If you're unable to identify what that reason is then the inappropriate behaviors are likely to not resolve. The good news is that, with the right support and guidance, you can discover the reasons behind your child's behaviors and learn the tools necessary to bring harmony into your home.
Child Counseling Can Help Your Family Thrive
Therapy can be very helpful in providing you with tools and knowledge to interact with your child in new, more effective ways, as well as offering your child new coping mechanisms and skills to manage their own behavior. Therapy for kids is a collaborative process in which the parents and child work together to create harmony, support and connection.
In the beginning, I work intensively with the parent(s) to understand what's bringing you into therapy. Together, we'll track your child's unhelpful behaviors and uncover what may be fueling them. Once we have a grasp of what's going on and why, then I can work with your child and provide them with tools to manage their emotions and teach them more appropriate ways to handle situations.
Therapy is a judgement-free environment where kids can be completely themselves. I also open up communication with parents throughout the week, so if something comes up, you can call me and receive support in real time.
Every family is unique, so our treatment will focus on identifying and addressing your specific concerns. We may use play therapy, practice implementing clear boundaries or create a reward system that focuses on the child's positive behaviors. I don't agree with taking things away from a child, but rather have them earn it. The more we're able to limit negative behavior, the more peace and calmness you can expect to see in your household.
Even though you may be discouraged and frustrated now, things can get better. I've been working with kids for over two decades, and am here to help you find lasting solutions. Over the years, I've worked with many populations to understand a variety of issues and a wealth of solutions. And, as a parent, I know this is not an easy job. I'm so thankful for my schooling, because without it, I'd be lost in my own parenting journey.
With the guidance of a child therapist, it's possible to bring balance back into your home and create a positive relationship between you and your child(ren). You don't have to feel this stress and worry much longer.
You may still have questions or concerns about child counseling…
I can't justify the cost of family therapy.
Although therapy is a financial investment, it's hard to put a price on peace and harmony in your home. Your child only gets one childhood, so this time is precious and valuable. Don't you want look back and remember the happy, loving times, rather than screaming fits and anger?
Not only that, but therapy is not a life-long endeavor. It's a short-term commitment that can help you get out of this rough patch. If you are committed to put in the effort and implement the strategies consistently at home, the quicker you will see improvement. I'm not going to say any of this process will be easy, but I can promise you it will be worth it. Furthermore, the tools that you and your children learn here can be applied to other aspects and relationships in your life.
I'm divorced, and the other parent doesn't believe in therapy for kids.
Although it would be ideal if both co-parents were consistent, sometimes that's just not the case. Therapy can still benefit your child and family. And, therapy is a great resource to help you better navigate co-parenting struggles with greater effectiveness and ease.
I don't have time for parenting counseling.
As a working parent, there's no doubt your life is busy and stressful. However, during this trying time, it may be worthwhile to take a step back and consider how much stress would dissipate if only your household were a calm, safe haven. With this thought in mind, perhaps some other things should take the backburner, at least for a while. You deserve happiness and fulfillment as a parent. Your child deserves to thrive.
Enjoy Peace In Your Home
If you're interested in learning more about child or family counseling, please contact me or call 631-533-0254 or email [email protected] for a free 20 minute consultation. My practice is located in Commack, NY